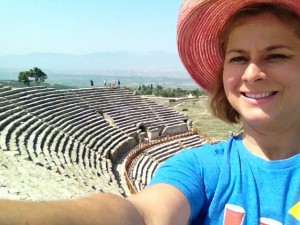 Since second grade, when she first heard the story of Pompeii's Discovery, Darlene Bocek has been intrigued by ancient history.  She loves researching history, because she finds reading the words of people from long ago and learning about their daily lives and thoughts (combined with an empathetic imagination) is a powerful way to Time-travel.
Darlene Bocek and her family live in Izmir, Turkey. Making the Bible available, the main message of Trunk of Scrolls,  is dear to their family's heart. Her husband Fikret is a Reformed pastor and heads up the Turkish Standard Version Bible Translation project, to make an essentially-literal translation of the Bible into Turkish, the first of its kind.
She is a homeschool mom of four wonderful kids, each one her most favorite.  She spends "most" of her time in front of the washing machine, and her spare time writing (or vice-versa).
The family lives on an olive farm overlooking the Aegean sea in Turkey. To date, they have nine  sixteen twenty-four cats, five giant dogs (three of which are Kangals), an ornery Arabian horse, four budgies, a parakeet, and a canary. Most are named for movie characters. Outside the kitchen window lives a dove named Noah with his wife and many children.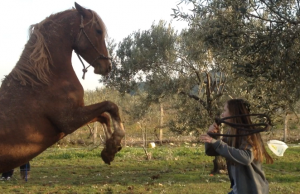 A native of San Diego, California, she received a Bachelors in Social Science with an Ancient Middle Eastern emphasis from Westmont College, and elementary and secondary teaching credentials from Southern California College.  She is connected to Westminster Theological Seminary of California  through her husband.
If she had free time, Darlene would enjoy cooking, gardening, painting, sewing and training her wild animals.