What is the connection between Alexander, the Persian Mastiff (Sarabi dog), and the Turkish Kangal? Where did the dog come from? Which breed was Alexander's dog?
This article explores this mystery in depth.
---
The Sarabi dog is featured in the novel TRUNK OF SCROLLS: A FAMILY ADVENTURE. Those who love either the Persian Mastiff or the Turkish Kangal will appreciate the key role this dog plays in the story. (Get your copy today to find out!)
---
PERITAS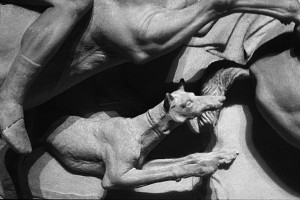 Peritas was a much-loved dog of Alexander the Great (356 BC-321 BC).  Apparently there were two dogs of Alexander named Peritas. One he raised himself Plutarch writes, "he also, we are told, built another city, and called it after the name of a favorite dog, Peritas, which he had brought up himself."  This dog might have been a greyhound type.
But another breed seems to…read more