I am taking a huge risk. 
I am viewing this launch and Kickstarter as a JOURNEY I'm embarking on. We pack our bags and make plans, but then we have to rely on OTHERS to make things happen. Like the pilot and the technicians and the flight attendants.
It's a simple change…the subtitle will go from A Family Adventure to Paths of Faith and Fire.
But there is a HUGE cost to that. Currently, the first edition averages a 5 star rating on Amazon and a 4.61 on Goodreads.  I lose the 25 amazing reviews we have on Amazon and the others on Goodreads. (It's the way that the "Amazon algorithm" works, they see this as a different book 😭).
THIS IS NOT FOR YOU IF…YOU ONLY LIKE CALM HALLMARK STORIES AND YOU WANT ONLY GOOD THINGS TO HAPPEN TO PEOPLE
The story "IS" a FAMILY'S ADVENTURE… where five kids are on a journey.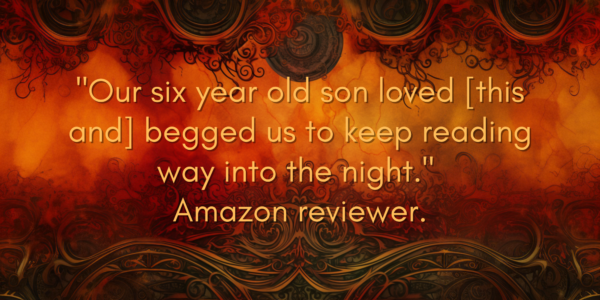 And though young children enjoyed the first book, it is meant for young adults.
IT IS… about the PATHS of FAITH AND FIRE that we are all on. Like an allegory, Marcellus's troubles are our troubles.
⚠️  There are scary bits in the book, and mature bits (Marcellus's dark secret is dark). So it is rated AGES 12-adult. ⚠️  
(DETAILS ABOUT RATINGS ARE IN THE KICKSTARTER FAQ)
In an attempt to REFLECT exactly what the novel is SUPPOSED to reflect, I leave those 25 reviews on the previous version and move forward with eagerness.
I firmly believe that with this change I can reach the people this is for, namely Young Adults who want to live for Jesus in a world that is hard to understand. 
That said, I'm sure YOU, my new readers, will likewise love to leave reviews to boost this book back up to its rightful place.