We often see the book of Job as a study of suffering. But Job is a story of a man's search for hope in a broken world.
After Psalms, Job is the book in the Bible using the word "hope" the most. It uses the word 19 times. But does he find this hope he seeks? He does. Not in the restoration of his goods, though this does happen. He finds hope in knowing the Character of God.
Job 3:8-10-Life promises hope but does not deliver
Let those curse it who curse the day,
who are ready to rouse up Leviathan.
Let the stars of its dawn be dark;
let it HOPE for light, but have none,
nor see the eyelids of the morning,
because it did not shut the doors of my mother's womb,
nor hide trouble from my eyes.
Job 4:5-7-My fear of God is my hope.
But now it has come to you, and you are impatient;
it touches you, and you are dismayed.
Is not your fear of God your confidence,
and the integrity of your ways your HOPE?
Job 5:15-17-God is just so hope remains
But he saves the needy from the sword of their mouth
and from the hand of the mighty.
So the poor have HOPE,
and injustice shuts her mouth.
"Behold, blessed is the one whom God reproves;
therefore despise not the discipline of the Almighty.
Job 6:7-9-I ask God for hope, he crushes me
My appetite refuses to touch them;
they are as food that is loathsome to me.
"Oh that I might have my request,
and that God would fulfill my HOPE,
that it would please God to crush me,
that he would let loose his hand and cut me off!
Job 6:18-20-People try to find hope in materialism
The caravans turn aside from their course;
they go up into the waste and perish.
The caravans of Tema look,
the travelers of Sheba HOPE.
They are ashamed because they were confident;
they come there and are disappointed.
Job 7:1-6-Life is hard, there is no hope.
"Has not man a hard service on earth,
and are not his days like the days of a hired hand?
Like a slave who longs for the shadow,
and like a hired hand who looks for his wages,
so I am allotted months of emptiness,
and nights of misery are apportioned to me.
When I lie down I say, 'When shall I arise?'
But the night is long,
and I am full of tossing till the dawn.
My flesh is clothed with worms and dirt;
my skin hardens, then breaks out afresh.
My days are swifter than a weaver's shuttle
and come to their end without HOPE.
Job 8:12-14-The godless have no hope
While yet in flower and not cut down,
they wither before any other plant.
Such are the paths of all who forget God;
the HOPE of the godless shall perish.
His confidence is severed,
and his trust is a spider's web.
Job 11:13-20-Seek the hope in either God or death
"If you prepare your heart,
you will stretch out your hands toward him.
If iniquity is in your hand, put it far away,
and let not injustice dwell in your tents.
Surely then you will lift up your face without blemish;
you will be secure and will not fear.
You will forget your misery;
you will remember it as waters that have passed away.
And your life will be brighter than the noonday;
its darkness will be like the morning.
And you will feel secure, because there is HOPE;
you will look around and take your rest in security.
You will lie down, and none will make you afraid;
many will court your favor.
But the eyes of the wicked will fail;
all way of escape will be lost to them,
and their HOPE is to breathe their last."
Job 13:14-16-Though he slay me, yet I will hope
Why should I take my flesh in my teeth
and put my life in my hand?
Though he slay me, I will HOPE in him;
yet I will argue my ways to his face.
This will be my salvation,
that the godless shall not come before him.
Job 14:7-9-Nature shows us there is always hope
"For there is HOPE for a tree,
if it be cut down, that it will sprout again,
and that its shoots will not cease.
Though its root grow old in the earth,
and its stump die in the soil,
yet at the scent of water it will bud
and put out branches like a young plant.
Job 14:18-19-Nature shows this world is passing away
"But the mountain falls and crumbles away,
and the rock is removed from its place;
the waters wear away the stones;
the torrents wash away the soil of the earth;
so you destroy the HOPE of man.
If I HOPE for Sheol as my house,
if I make my bed in darkness,
if I say to the pit, 'You are my father,'
and to the worm, 'My mother,' or 'My sister,'
where then is my HOPE?
Who will see my HOPE?
Job 19:9-11-I can no longer hope in this world
He has stripped from me my glory
and taken the crown from my head.
He breaks me down on every side, and I am gone,
and my HOPE has he pulled up like a tree.
He has kindled his wrath against me
and counts me as his adversary.
Job 27:7-9-There is no hope without God
"Let my enemy be as the wicked,
and let him who rises up against me be as the unrighteous.
For what is the HOPE of the godless when God cuts him off,
when God takes away his life?
Will God hear his cry
when distress comes upon him?
Job 30:25-27-Pain and suffering happen to the righteous
Did not I weep for him whose day was hard?
Was not my soul grieved for the needy?
But when I HOPEd for good, evil came,
and when I waited for light, darkness came.
My inward parts are in turmoil and never still;
days of affliction come to meet me.
Job 41:8-10-God says 'the hope of man is false'
Lay your hands on him;
remember the battle—you will not do it again!
Behold, the HOPE of a man is false;
he is laid low even at the sight of him.
No one is so fierce that he dares to stir him up.
Who then is he who can stand before me?
So, then, how can I find hope in suffering?
Suffering happens in this world to sort the people into two groups, as this study has shown. Hope comes only to one group–the people who know the Lord. Knowing the Character of God, you know that JUSTICE will come and MUST come, and you know that this world does not give us that hope. We cannot hope in the things of this world, for it is a broken world. Rather, we can only and must only hope in Christ, and as Job says, "The Lord gives and the Lord takes away. Blessed be the name of the Lord."
For the creation waits with eager longing
for the revealing of the sons of God. 
For the creation was subjected to futility,
not willingly, but because of him who subjected it,
IN HOPE that the creation itself
will be set free from its bondage to corruption
and obtain the freedom of the glory of the children of God.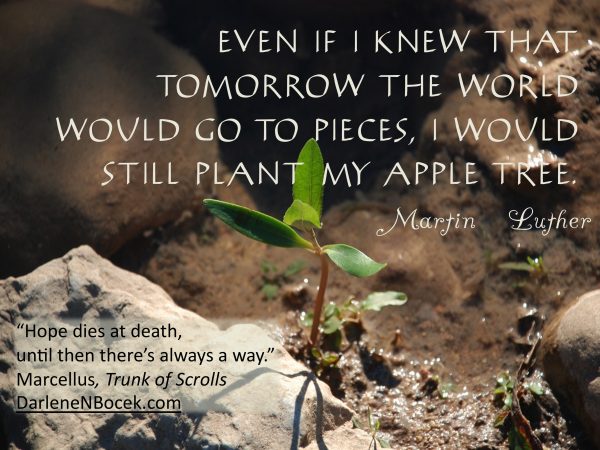 For a "faith-building" story about surviving in a broken world, see Trunk of Scrolls: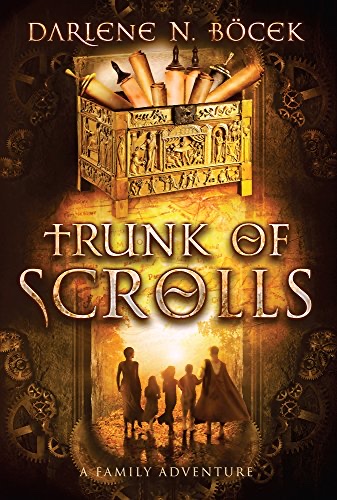 STRAP ON YOUR SANDALS.
YOU'RE GOING BACK IN TIME!
A.D. 526 Antioch.
The earth shakes like a beast awakening. Now Antioch, once the glory of Rome, lies in ruins—a broken-backed man that cannot stand.
Young Byzantine nobleman Marcellus takes up sword and wits to protect his neighbors, Byziana and her young siblings, on a seven hundred mile journey to Constantinople to find their missing father and restore their lost fortune.
A young nobleman. A dark secret. A trunk of Scripture scrolls. 
Kyrie Eleison. God have mercy.
More info →
Fireman Reuben Morales is ready to begin the holiday season when a knock on the door brings the tragic news: his unbelieving sister has died. Is his faith enough to grieve the loss and celebrate Christmas at the same time?
Little does he know, he is about to run into his sister again.
🎄 📖 This book will be available for the 2022 Christmas Season!! 🎁 🎄
More info →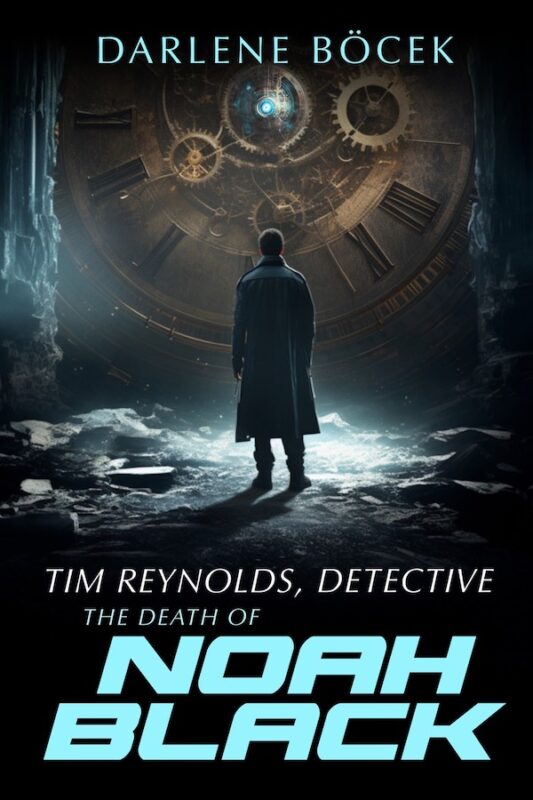 Detective Tim Reynolds is no stranger to death. As chief of investigations, he deals with corpses every day. He can handle crime scenes, or so he thinks.
__CLICK THE -ORANGE- BUTTON TO DOWNLOAD FOR FREE!__(For a limited time only)
More info →