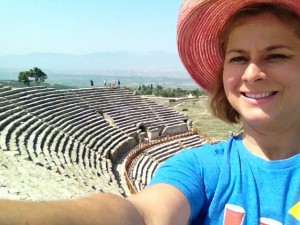 I am a thinker of big thoughts and a lover of nature's message, and my words are a merger of both. Fans of my work enjoy being challenged by new people, strange places and old ideas helping them to think and grow like never before.
As an armchair student of natural theology, an ancient history aficionado and a methodical homeschool mother, I love bringing readers and students into a deeper appreciation of the intelligent side of Christianity.
My writing passions split into fictional allegorical worlds of Byzantium (historical fiction) and Rabbim's Kingdom (children's fiction), and currently, a near-future sci-fi world of Pogland. I also write non-fictional, apologetics musings in my Mene Mene Tekel Upharsin series and apologetic debate on Quora.
My first work, Trunk of Scrolls, is available in paperback and ebook, and my future work will be coming out in a variety of traditional and self-publishing methods.  I'm grateful for endorsements by Michael Horton, Darrell Bock, Joel Beeke, Scott Brown and the like.  I am currently seeking representation.
A native of San Diego, California, I received a Bachelors in Social Science with an Ancient Middle Eastern emphasis from Westmont College, and elementary and secondary teaching credentials from Southern California College. Through my husband, I am connected to Westminster Theological Seminary of California, and we are most rejoicingly confessionally reformed.