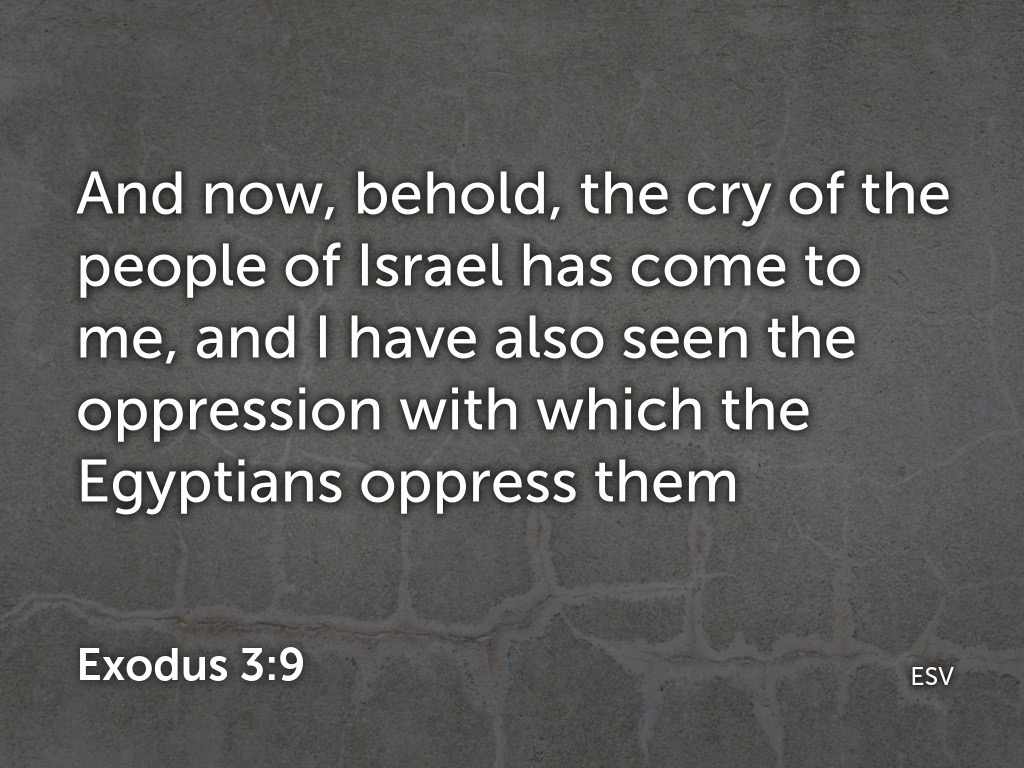 Exodus 3:9 is a strange verse.
Where was God, those 400 years that "finally" he heard, finally he saw? Was he busy on the other end of the universe—perhaps evidence that we are not alone, not so very special? Evidence that God needed 400 years to take care of some alien race, just leaving Abraham's offspring to do-without?
If you're like me, you can't fathom the idea of 400 years of God's absence. Granted, in Genesis 15:13, he had told Abram (at the beginning of his journey of faith, before even having his name changed) that his offspring would have 400 years of servitude in another land.
But then, "what kind of God" would let 400 years of bad things go from bad to worse, and then "finally" show up and say, "yeah, here I am, I just heard. Sorry, guys. I'm here to fix things."
It makes for a big puzzle. A Big Question. Why did he leave them alone?
As with any other verse in the Bible, you can't take it out of context and define what it means alone. Every verse must be interpreted with all the other verses. This is Bible-understanding 101 lesson one.
WHEN HE ISN'T HERE
Can we know where God is when he isn't HERE?
God is Omnipresent and Omniscient
Where shall I go from your Spirit?
Or where shall I flee from your presence?

If I ascend to heaven, you are there!
If I make my bed in Sheol, you are there!

If I take the wings of the morning
and dwell in the uttermost parts of the sea,

even there your hand shall lead me,
and your right hand shall hold me.

If I say, "Surely the darkness shall cover me,
and the light about me be night,"

even the darkness is not dark to you;
the night is bright as the day,
for darkness is as light with you.

Psalm 139:7-12


Oops. This idea seems to contradict Exodus 3:9! On the one hand, he tells Moses that "finally" he saw and heard. But here it says he is always seeing and hearing?
The answer is everywhere in Scripture. God was, in fact, not silent for those 400 years.
"Draw near to God and he will draw near to you."

James 4:8


---